Muslim Coalition Urges a "Yes" Vote at the UN Human Rights Council on Uyghur Atrocities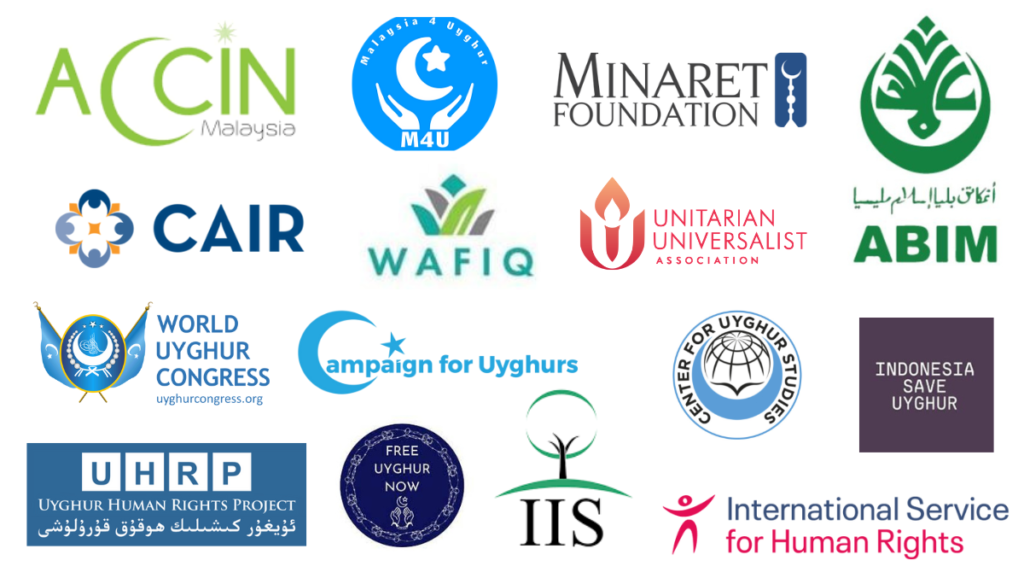 Indonesia and Malaysia Foreign Ministers Should Join Resolution to Take Up Bachelet Report
October 3, 2022 | 1:00 p.m. EDT
For Immediate Release
Contact: Mustafa Aksu, maksu@uhrp.org, +1 (812) 955-1595, Amal Altareb, info@freeuyghurnow.org, +1 (203) 689-3089
The Coalition for a Global Muslim Response to Uyghur Atrocities sent a joint letter to the Foreign Ministers of Indonesia and Malaysia regarding the UN Human Rights Council resolution to take up the findings of the Bachelet Report. The signatories appealed to Indonesia and Malaysia to use their votes on the Human Rights Council to vote "yes" on the pending resolution. The resolution will commit the Human Rights Council to a formal discussion of the report at its next session. The full text of the letter is appended below.
September 30, 2022
His Excellency Saifuddin Abdullah, Foreign Minister of Malaysia
Her Excellency Retno Marsudi, Foreign Minister of Indonesia
The Coalition for a Global Muslim Response to Uyghur Atrocities Urges UN Human Rights Council Member States to Vote "Yes" to Take Up the Bachelet Report Findings on Atrocities Against Uyghurs
Assalamu Alaikum, Your Excellencies:
We urge you to use your country's seat on the United Nations Human Rights Council to support a resolution to take up the important findings on atrocities against Uyghurs, in the report released August 31 by former UN High Commissioner for Human Rights Michele Bachelet. The High Commissioner found that abuses faced by Uyghurs and other Turkic peoples "may constitute international crimes, in particular crimes against humanity."
The undersigned groups represent concerned youth groups, faith-based groups, and other civil society organizations in Malaysia, Indonesia, Turkey, and other countries.
We are calling on the international community to act on its obligation to end atrocity crimes like genocide and crimes against humanity. We urge you to do your part through your actions on the Human Rights Council.
We commend and warmly welcome the September 7 joint statement by 45 independent UN experts, who expressed their support for the findings of the High Commissioner's report and urged the Human Rights Council to hold a special session in response.
On September 20, the Uyghur Tribunal issued its Final Judgment, incorporating nearly 300 additional pages of historical background, definitions and evidence. The tribunal investigated "ongoing atrocities and possible genocide against the Uyghur people" and found that hundreds of thousands of Uyghur Muslims have been detained, tortured, starved, and subjected to sexual abuse and forced labour.
We appeal to you as leaders of the Muslim Ummah to vote "Yes" to discuss the Bachelet Report findings acknowledging atrocities committed against the Uyghurs and other Turkic Muslims.
Sincerely yours,
Muslim Youth Movement of Malaysia (ABIM)
Allied Coordinating Council of Islamic NGOs Malaysia (ACCIN)
The International Women's Alliance for Family Institution and Quality Education (WAFIQ)
Indonesia Save Uyghur
Malaysia4Uyghur
Islamic Information & Services Foundation (IISF)
Council on American-Islamic Relations (CAIR)
Minaret Foundation
World Uyghur Congress
Center for Uyghur Studies
Campaign for Uyghurs
Unitarian Universalist Association
Free Uyghur Now
Uyghur Human Rights Project (UHRP)
International Service for Human Rights (ISHR)