New report documents the complicity of Pakistan and Afghanistan in China's transnational repression of Uyghurs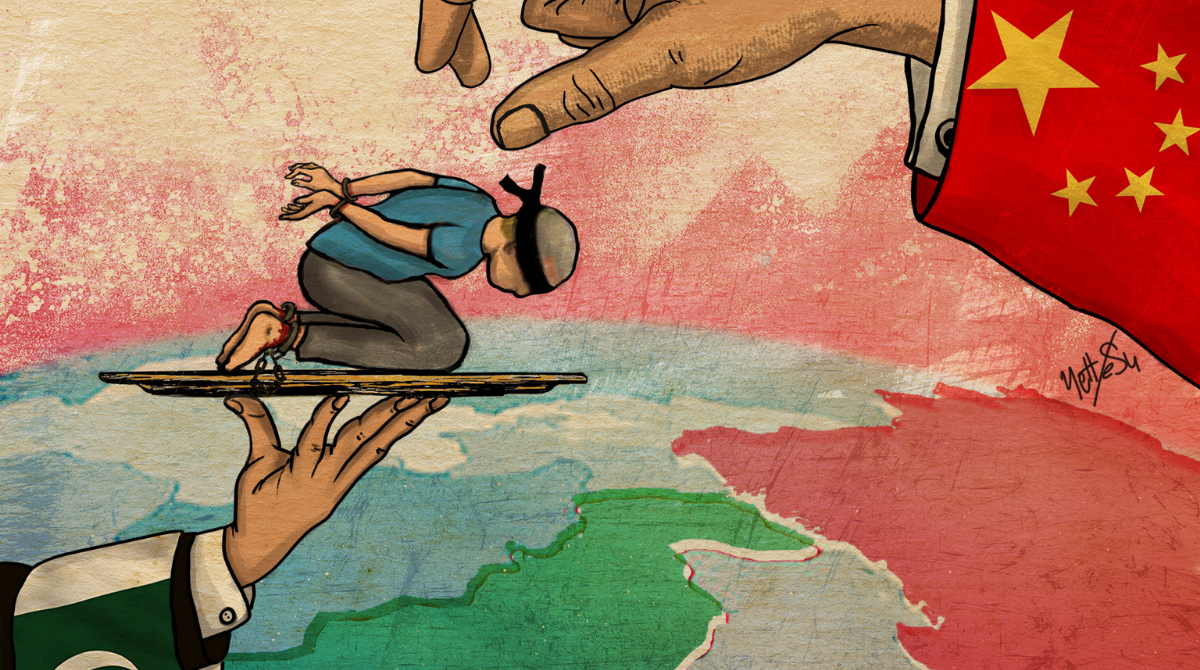 For immediate release
August 11, 2021 6:00 a.m. EDT
Uyghur Human Rights Project
Contact: Omer Kanat +1 (202) 790-1795, Peter Irwin +1 (646) 906-7722
The Uyghur Human Rights Project (UHRP) and the Oxus Society for Central Asian Affairs (Oxus) have released a new report documenting the complicity of the Pakistani and Afghan states in China's transnational repression of Uyghurs.
The report, "Nets Cast from the Earth to the Sky": China's Hunt for Pakistan's Uyghurs, distinguishes different methods by which the Chinese government represses Uyghur communities in Pakistan and Afghanistan and describes how these methods violate international human rights and legal norms.
Researchers gathered cases of China's transnational repression from interviews with Uyghur activists and refugees in Pakistan, Afghanistan, and Turkey, in addition to government documents and human rights reports, and Urdu and English media.
"Pakistan and Afghanistan are becoming Chinese client states," said UHRP Executive Director Omer Kanat. "At the behest of the Chinese authorities, Islamabad and Kabul are engaged in the harassment, detention, and deportation of vulnerable Uyghurs. Some of the targeted Uyghurs have been tortured and executed in China, while others have experienced the breakup of their families and heavy-handed surveillance of their communities. China's economic largesse can buy all sorts of complicity in violence against Uyghurs."
"It is urgent that the international community recognise that Imran Khan has not only been silent on the plight of the Uyghurs, but that his government has been fully complicit in China's crackdown," said Bradley Jardine, Director of Research at the Oxus Society for Central Asian Affairs. "As the US prepares to leave Afghanistan, Uyghur Afghan citizens and long-term residents alike face the threat of increased persecution and even extradition to China under the leadership of the Pakistan-backed Taliban movement."
The report draws from the China's Transnational Repression of Uyghurs Dataset, a joint project by the Oxus Society for Central Asian Affairs and the Uyghur Human Rights Project (UHRP) published in June 2021.
From the dataset, UHRP and Oxus have identified and analyzed 21 cases of detention and deportation in Afghanistan and Pakistan, with an upper estimate of 90 reported incidents lacking full biographical records. For those Uyghurs not directly targeted in Pakistan or Afghanistan, China is creating conditions resembling an open-air prison through intimidation and surveillance.
According to UHRP and Oxus' analysis, transnational repression of Uyghurs in Pakistan has been consistently on the rise since 1997 and falls into four distinct stages. The most recent of these, China's 2014 People's War on Terror, marks a shift in China's transnational repression in Pakistan and Afghanistan, with some 16 Uyghurs deported or detained from 2015 into the present. This fourth stage has also seen a significant increase in the scope of Chinese activities, including hacking, malware, coercion-by-proxy, and the growing use of the Ex Chinese Association to monitor Uyghurs living in Rawalpindi.
In the wake of unrest in Ürümchi in July 2009, thousands of Uyghur refugees fled China—some of whom would cross through Pakistan on their way to Turkey. The result was a third stage for China's campaign of intimidation within Pakistan's borders (2009–2014) in which a total of 16 Uyghurs were arrested or deported.
Following the U.S. Global War on Terror, China began to intensify its crackdown on Uyghurs in Pakistan, issuing a series of lists demanding extradition of Pakistani citizens. Throughout this second phase (2001–2008), Pakistan detained or rendered a total of 17 Uyghurs.
In the first stage of China's evolving system of transnational repression in Pakistan and neighboring Afghanistan (1990–2001), a total of 27 Uyghurs had been deported to China or detained by Pakistani security services.
"This pervasive danger for Uyghurs shows why it is urgent that the U.S. Congress pass the Uyghur Human Rights Protection Act, and that other governments act decisively to provide safe resettlement for Uyghur refugees at risk," added Mr. Omer Kanat.
The report recommends concerned governments to increase quotas for the resettlement of Uyghur refugees, given that safe havens for Uyghurs are increasingly insecure. Further, the United Nations should investigate allegations against the UNHCR office in Pakistan, given the alarming testimony that Uyghur refugees are being denied asylum services by the UNHCR office in Islamabad.